Grantham Museum reopens after refurbishment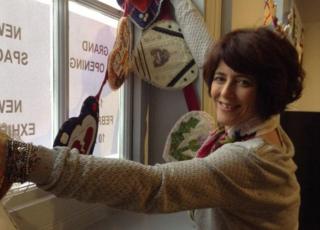 A museum in Margaret Thatcher's hometown has reopened following three months of refurbishment.
Grantham Museum has many exhibits relating to the former prime minister, including her old bed, handbag, blue suit and hockey stick.
Improvements to the museum include new lighting, removing a partition wall and taking the carpet up to reveal the original parquet flooring.
New exhibits include a mock-up of a World War One trench.
Helen Goral, the museum's chairman, said: "The museum has come such a long way in the past two years and this refurbishment is the culmination of a lot of hard work.
"Everyone involved, particularly our volunteers, have been instrumental in making this happen and we couldn't have done it without them."
The museum was forced to close in 2011 after Lincolnshire County Council pulled its funding.
The Grantham Community Heritage Association (GCHA) was formed by a group of local volunteers to manage the museum, which reopened in 2012.
Christine Robbins, exhibitions director, said a lot of work had gone into improving the look of the space since the charity took over.
"We've got a state of the art lighting system; it's both brighter and safer for the exhibits," she said.
"[We found] beautiful teak flooring and most of the big old houses in Grantham have exactly the same. Obviously the same company laid it in 1927."
The museum also has a World War One display including a display of sweetheart pincushions that the local school children and adults have created.
Cushions of this type were sent to loved ones during the conflict, Ms Robbins said.
The museum was officially reopened by Grantham's mayor Ian Selby on Saturday.
Correction 16 February 2015: This article has been amended after an earlier version incorrectly stated that Margaret Thatcher's Spitting Image puppet had recently been removed from display at the museum.