Lincoln City 'fair price' tickets deal increases Sincil Bank attendance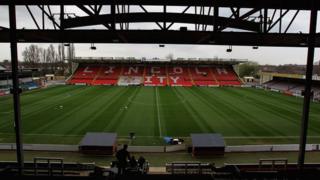 A scheme inviting Lincoln City fans to pay as little as a £1 for a match ticket has led to an increase in the club's home attendance.
People had until Friday night to pay a "fair price" for Saturday's game against Chester City at Sincil Bank.
The attendance was 4,568, almost double the season's average of about 2,500.
Earlier this month the club announced it could be forced to sell its property assets in order to pay back £380,000 to the Co-operative Bank.
The Imps failed to secure an eighth successive home league win, losing 0-1 to Chester.
Financial trouble
General manager John Vickers said on Friday that ticket sales grew as the week went on.
"[The initiative] has got people talking and we'll have new bums on seats... new supporters are taking advantage," he said.
"If we double [our average attendance] it will be fantastic."
Earlier in February, chairman Bob Dorrian said in a letter to shareholders the Co-operative Bank wanted to end its relationship with the club as soon as possible.
The club said it would not have to sell Sincil Bank but that even selling its other property assets could leave it in financial trouble.
Lincoln City appealed to fans for help and invited supporters to apply for shares for as little as 50p to raise funds.