Rapists jailed despite overruled judge's 'serious omission'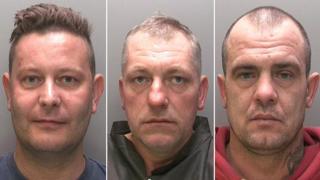 Three rapists have each been jailed for six years by a judge who previously terminated their trial because he thought there was a lack of evidence.
Michael Armitage, Pawel Chudzicki and Rafal Segiet were convicted of rape after the Crown Prosecution Service appealed the judge's decision.
Court of Appeal judges said Judge John Pini QC should have considered videos of Armitage having sex with the woman.
The three men were all jailed at Lincoln Crown Court.
Judge Pini made no mention of the Court of Appeal intervention when he sentenced them.
'Intoxicated' and 'helpless'
He said the 23-year-old woman was "used as a shared commodity" by the defendants.
"You had no reason to believe she was consenting as she was not the enthusiastic sexual partner that you all describe," he said.
"It must have been quite obvious to you that she was in no state to agree."
---
Victim: 'I'll never forget'
In a statement issued by police, the victim said she was pleased with the length of the men's sentences.
"This has taken a long time - two years and three months from when this happened to the conclusion of the court case," she said.
"After this happened I went on anti-depressants, I got panic attacks, I didn't have a relationship for over a year because I had trouble with trust and intimacy. It was all very stressful, as was the court case.
"I'll never forget what happened but I will move on."
She encouraged other women to seek help if they have been in the same situation.
"It would be nice if something good came out of all of this and it could help someone else," she said.
---
Armitage and Segiet met the woman after she left a nightclub in Lincoln in October 2012.
The trial heard she had drunk about 12 shots of vodka at the club.
The men took her to a party at a flat in the city, where all three defendants raped her in turn.
The sexual activity with Armitage was filmed on a phone.
The woman recalled being raped by one man, but could not remember having sex with anyone else.
Under cross-examination she said: "It could all have happened consensually and I don't remember it."
After submissions from the defence to stop the trial, Judge Pini said: "In my judgement there is insufficient evidence from which the jury could determine lack of capacity and I will withdraw the case from the jury."
But the Crown Prosecution Service (CPS) took the unusual step of appealing against the judge's decision.
The panel of three appeal judges, led by Lord Justice Treacy, reversed Judge Pini's decision.
'Serious and significant omission'
They said: "In the judge's ruling he failed to make any reference to the video clips of Armitage.
"We consider that this was a serious and significant omission and that when the evidence available in Armitage's case is considered, there was indeed a case to go to the jury.
"It appears to us that [the victim] is depicted throughout as being sufficiently inert and unresponsive as to leave it open to a properly directed jury to be sure that she was not consenting and that she did not have the freedom and capacity to do so."
The court found the cases of Chudzicki and Segiet should also have been left to the jury to determine.
The trial went ahead and the men were convicted of rape on Tuesday.
Segeit was convicted of two other sexual offences, and Chudzicki of one other sexual offence.
'Justice has been served'
The court was told that Armitage, 44, of Oldham, served with distinction in the British Army for 10 years, including in the first Gulf War.
Chudzicki, 49, and Segiet, 40, are both Polish nationals who came to the UK to work.
Lawrence English, CPS East Midlands Senior District Crown Prosecutor, said: "The victim in this case has shown tremendous courage.
"She suffered an horrific ordeal because of the actions of these three men and we are satisfied to see justice has been served."