East Coast Mainline work to 'split Spalding in two'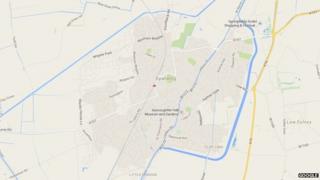 Diverting 100 trains a day through a Lincolnshire town could cause safety issues, a council leader has warned.
Network Rail is to carry out "essential maintenance work" to the East Coast Mainline over the next five weekends.
It will mean all the level crossings in Spalding may have to close, splitting the town in two and blocking emergency services, councillor Gary Porter said.
Network Rail said it is normal practice to divert trains through the town and has informed the emergency services.
East Midlands Ambulance Service said it had only received basic details but would know more after a meeting with the council, MP John Hayes, other emergency services and Network Rail later.
'Complete inconvenience'
Large passenger and freight trains will be diverted through towns including Spalding, Sleaford, Lincoln, Gainsborough and Doncaster after the closure of the East Coast Mainline.
Mr Porter, who is the leader of South Holland District Council, said all level crossings would have to be down while larger passenger and freight trains were diverted through Spalding which would "cut the town in half for most periods of the day".
"That means there'll be no route across Spalding, which is an inconvenience for shoppers and ordinary people, but if there's an emergency, the fire engines and the ambulances are all over the other side of town," he said.
"These are of no benefit to people in South Holland at all. These are all a complete inconvenience," he added.
Network Rail said it has informed emergency services and has been diverting trains through Spalding for many years.
A spokesman said: "We have informed emergency services of these diversions. Level crossings are managed and monitored to make sure that barriers are activated only when necessary to protect the safety of rail and road users."