Lincolnshire double-decker bus blown into ditch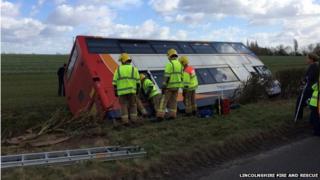 High winds were blamed for a double-decker bus with 10 people on board toppling into a roadside ditch.
The Stagecoach vehicle came off the road in Scothern, near Lincoln, at about 12:30 GMT.
Firefighters and an air ambulance were called to the scene to help the passengers off the bus. One person was taken to hospital with minor injuries.
Lincolnshire Fire and Rescue Service said it believed strong cross winds were responsible.
A spokesman for Stagecoach said the company's its first priority was safety and it is carrying out an investigation into what happened.