Louth cattle market sale faces uncertainty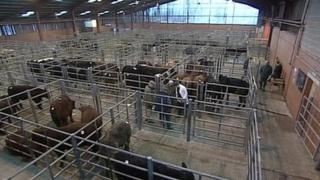 The sale of an historic Lincolnshire market remains uncertain following a revised offer for the site.
The Louth cattle market had been earmarked for the development of an Asda supermarket, due to open in 2016.
However, the retailer has now put forward a new offer to East Lindsey District Council.
The authority said it would review its position over the sale of the livestock market but this could mean further delays to development.
East Lindsey District Council put the market site, off Linden Walk, up for sale in 2013.
In July, the council agreed a sum with Asda and councillors voted for the development of a supermarket to go ahead on the site.
The nature of the original and revised offers remains confidential.
'Frustrating for everyone'
The authority's chief executive, Stuart Davey, said with a general election on the horizon, it would be for the new council to consider the new offer.
He said: "We will have to put forward a range of options for members in the early summer and members can make their own decision in terms of the way forward.
"We are probably going to be in a position where we may well have to test the market again and it will be up for sale."
Alan Mumby, chairman of Keep Louth Special, said the latest situation was "frustrating for everyone".
"They [the council] have angered the farming community, they haven't satisfied the pro supermarket lobby that want a big mega store and people are frustrated in the town.
"We want Louth to move forward and we want the cattle market to stay there."