Skegness Premier Inn deal put on hold after community campaign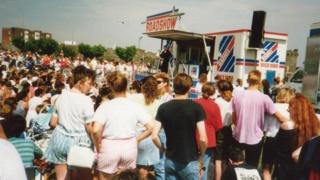 Plans to sell a seafront site in Skegness to a national hotel chain have been put on hold.
East Lindsey District Council had been looking at selling Pier Field to Premier Inn for development.
The authority has now agreed the land, which was previously used to host entertainment events, should be registered as a community asset.
It follows a campaign by The Save Our Foreshore group, which includes local hoteliers.
The land will now be put up for sale on the open market, giving campaigners a chance to launch their own bid to buy it.
In a statement, Premier Inn said Pier Field was the only commercially viable site in the resort.
It said its offer was worth £6.4m to the local economy and would create 50 year-round jobs.
'Massive unemployment'
Councillor Craig Leyland, portfolio holder for planning and economic development, said: "There has been a lot of heated debate and a lot of concern locally, and on balance I think it was the right decision."
However, he warned: "We have huge issues with deprivation along the coast, massive unemployment and skills issues we need to address.
"We can't be blasé about turning down opportunities when they come along."
He added the authority would now consider all bids for the site on merit.
Russell Sparks, co-chairman of the Save Our Foreshore group, said he was pleased with the decision.
He said: "What we are looking at doing is creating something that will bring visitors to Skegness."
Mr Sparks added the site was recreation land and should be used for that purpose.
In 1922, Lord Scarborough sold the site on the condition that no buildings were erected.
Since then it has hosted various entertainment events, including the Radio 1 Roadshow in the 1990s.
All building restrictions were lifted in 2006.