Views sought on flooded Black Sluice pumping station in Boston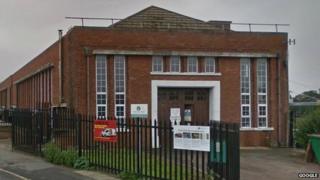 The future of a pumping station badly damaged by flooding during a tidal surge in 2013 is being put to public consultation.
Boston in Lincolnshire was one of the worst affected areas during the surge, which affected large parts of the East Coast of England.
Three of the five pumps at the town's Black Sluice station were badly damaged during the surge.
The station pumps excess water into the River Haven from the surrounding area.
The Environment Agency said there was a history of flooding in the area - mostly from rivers, but also from surface, ground and tidal waters.
It said the remaining two pumps at the station were 50 years old and nearing the end of their operational life.
Repairs would cost between £15m and £20m.
The agency is holding a series of public meetings to discuss the future of the station, and look at alternatives.
Kevin Abbott, advisor to the Environment Agency, said: "To provide value for money and find the best solution, we are looking at a variety of options across the whole catchment - and we'd like to take public opinion into account when making a decision."
Public events are being held in Billingborough and Bicker on 11 and 12 March.
These will be used to present options for Swaton, Billingborough and areas around the South Forty Foot Drain, which are served by the pumping station.
Ideas being considered include a flood relief channel and the creation of a reservoir.