RAF Wickenby memorial plaques stolen 'for scrap'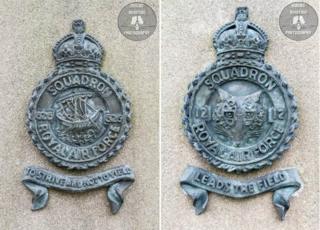 Two bronze plaques have been stolen from an RAF war memorial remembering 1,080 men who died in World War Two.
The plaques are thought to have been stolen from the former RAF Wickenby in Lincolnshire to sell for scrap.
Police are investigating the theft, which is believed to have happened between 24 February and 10 March.
The former RAF base is now a museum, and staff and volunteers say they are shocked and angry that anyone would steal the plaques.
Tony Goodeve, a volunteer at the Wickenby Memorial Collection, said "everybody is disgusted".
"To do something like this for people that lost their lives for our freedom is just the lowest form of low in my opinion," he said.
"There's a lot of outrage, not just here but for the whole country, because we have people from all over the country and the world coming here."