Event marks 100th anniversary of 'unusual' World War One poetry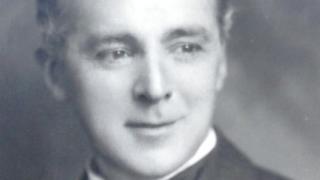 Poems including one about a woman happily sending her husband off to war have been performed to mark the 100th anniversary of their publication.
They are part of a book by Lincolnshire poet Bernard Samuel Gilbert about life on the home front during Word War One.
One poem, Gone To The War, is about a woman celebrating seeing the back of her "beer-swilling, wife-beating" husband.
The poems were part of a recital at Lincoln's Drill Hall.
Local historian Andrew Jackson said Gilbert, who came from Billinghay and worked for the ministry of munitions, offered an unusual perspective on "how people left at home felt about the war".
"He wrote for local people - about women and ordinary working folk and he also wrote in his local dialect.
"All of this makes his work very distinctive."
The poem Gone to the War is about a woman celebrating her husband going off to fight, and thinking she is better off as a result.
Part of it reads: "He's gone to the war, he's gone to the war - I don't give a rap if I see him no more - He leathered me reg'lar, Saturday night, when he collared his wages and allers got tight.
"I'm sure I prefer to be single by far."
Another of the poems is about the attempts of a master to stop his servant - who has a "twisted leg" - going off to fight. Not out of kindness, but to make sure he is still around to do all the work.
Gilbert's poems were performed at the Drill Hall on Friday by Maureen Sutton, a local dialect expert. The date marked exactly 100 years from when they were published.