'Drink driver' crashes into Louth War Memorial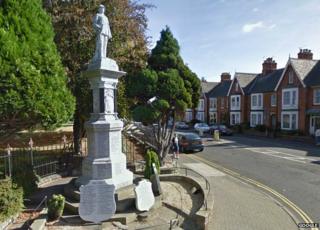 A listed war memorial has been damaged by a car driven by a suspected drink driver.
The Fiat Punto went through the wall surrounding Louth War Memorial and smashed into shields commemorating those who died in World War Two.
Lincolnshire Police said the 28-year-old driver initially left the scene, but he was subsequently arrested on suspicion of drink driving.
He has been released on bail. The crash happened at about 20:45 GMT on Sunday.
The Grade II listed memorial was unveiled in 1921, and originally commemorated people who died in the First World War.
The shields were later added to commemorate those who died in World War Two.
English Heritage said the shields were unusual because they list the names of 15 civilians - five men and 10 women.
All except two of these civilians died in two separate incidents on Ramsgate and Grimsby Road in February and September of 1941.
Louth town councillor Margaret Ottaway, a survivor of the Grimsby Road bombing, was among those who came to see the damage to the memorial.
"I'm a survivor of the [bombing] on 7 September 1941 when six of our family were killed, and a neighbour, at the top of Grimsby Road, at about 10 o'clock at night," she said.
"I cannot believe the state of this wonderful memorial, to not only my family but to the people who gave their lives for this country.
"The devastation is unbelievable."
Police said the structure was thought to be "insecure".
Two of the three shields have been damaged, including the centre one, which has names of the civilians killed.
Mrs Ottaway said it was "just terrible" to see the shield with her mother's name on it damaged.