Temple Hill plan for five wind turbines rejected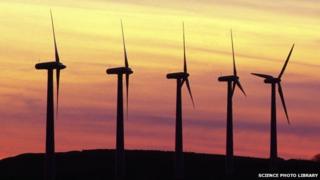 A plan to build five 415ft (126.5m) wind turbines on farmland in Lincolnshire has been turned down.
South Kesteven district councillors voted against the plan for Temple Hill, near Grantham, which developer RWE Npower Renewables said could have powered 7,000 homes a year.
Planning officers recommended it was rejected because of economic, heritage, health and flight-path reasons.
The developer can appeal against the decision.
More than 700 letters of objection were received by the council arguing the turbines would spoil views, could disturb the peace of the area and would deter visitors.
A number of local councils also objected, as did air navigation service provider NATS, which said the turbines would have an impact on radar.
In a report, council officers said the turbines would cause "considerable and extensive harm to the landscape character, visual amenity and the setting of a number of heritage assets in the area".
It also said there would be an "adverse impact on the local economy and aviation safety".
Eleven councillors voted against the plan, two abstained and none voted in favour.
It is not known whether RWE will appeal against the decision.