Wind a factor in light aircraft bungalow crash, AAIB report finds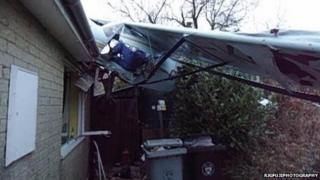 A pilot who smashed a light aircraft into a bungalow had been trying to abort a landing because of a sudden change in the wind, a report has found.
The 73-year-old suffered a serious back injury in the accident near Castle Bytham, Lincolnshire, in November.
A report by the AAIB said he had tried to abort landing the Denney Kitfox ultralight plane after noticing a change in the wind, but did not climb high enough to avoid the bungalow.
The occupant was unhurt in the crash.
Investigators said the pilot, from Thurnby, Leicestershire, was preparing to make his final landing when he noticed the wind direction had changed and so he positioned himself to land on a different runway.
"After touching down on a relatively short, wet grass runway the pilot decided that he would be unable to stop the aircraft before encountering a boundary fence," the report said.
"He applied full power and selected a climbing attitude in order to fly a go-around.
"The aircraft cleared the fence but failed to climb, subsequently colliding with the roof of a bungalow, about 50m beyond the fence."