Jareth Wadner not guilty of Wayne Jennings manslaughter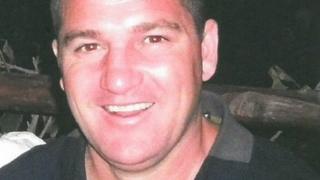 A man accused of killing a builder with a single punch to the face has been cleared of manslaughter.
Wayne Jennings, 43, died in June last year from a severe head injury after being hit by Jareth Wadner.
Mr Wadner, 25, from South Somercotes, said he acted in self defence and was found not guilty by a jury at Nottingham Crown Court earlier.
Mr Jennings' wife Julie said it was "devastating and heartbreaking" to lose him in such "pointless circumstances".
Describing him as a "devoted and loving husband and father", she said: "The future that we would have had together as a family has been destroyed. None of our plans, hopes and dreams will ever come true."
Caravan salesman Mr Wadner was originally charged with inflicting grievous bodily harm but it was changed to manslaughter when Mr Jennings, of North Somercotes, died in hospital three days after he was punched on Jubilee Road in the village.
Det Insp Helen Evans, from Lincolncshire Police, said the case illustrated that throwing one punch can kill.
"The devastating consequences are that it changes the lives of everyone involved forever," she said.