'Go Go Glad': Gladys Tingle runs 10k race on 84th birthday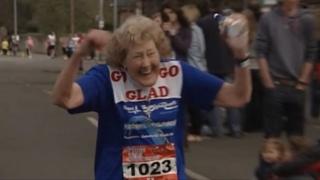 A woman is celebrating her 84th birthday by competing in a 10km race.
Gladys Tingle started competing in marathons in her 70s and is known for walking around her home town of Horncastle in Lincolnshire for miles every day.
She has raised more than £15,000 for charity over the years, with most of it going to Lincs and Notts Air Ambulance.
She will be among almost 6,000 people taking part in the 19th annual Lincoln 10k road race.
She is wearing her trademark t-shirt, which says "Go Go Glad" to help people recognise her and cheer her on.
"I like it when they all cheer me," she said.
"You've got to be happy and enjoy it."
The octogenarian won the Air Ambulance Volunteer of the Year award in November for her efforts raising money for the charity.
She came second in the over-70s category when she completed her first marathon, without even trying to win.
"I just did it casual and didn't know anything at all. That was my first time," she said.
She has not done any extra training for the Lincoln 10k.
"I don't do anything special at all," she said.
"I always try to do five or six miles in the morning."