Steep Hill 'Strait' arch installed in trade boost bid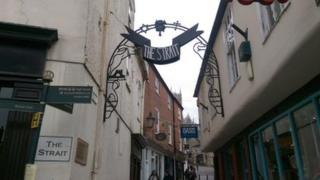 An £10,000 iron arch has been installed at the entrance to Lincoln's Steep Hill.
Traders in the historic street, known as The Strait, said the arch would help attract customers to independent businesses in the area.
The fixture was designed and made in Lincolnshire.
Chairman of the Bottom of the Hill traders group, Richard Baxter, said four years of planning and fundraising had all been "worthwhile".
The group said the design, which features 'The Strait' in tall white letters, was in keeping with the area's medieval character.
Mr Baxter said identity was the biggest problem for the area and the 40 businesses based there.
"Everyone knows the Steep Hill and that's why we wanted to get people to recognise The Strait," he said.
"People get into a normal routine of walking through to either the High Street or walking up to the castle so now hopefully, with a bit of advertising, people will see it and and spread the word how nice it looks."
Funding for the arch came from events organised by the traders and funding from Lincoln City Council and Lincolnshire City Council.