'Wanted' Facebook selfie man warned to expect jail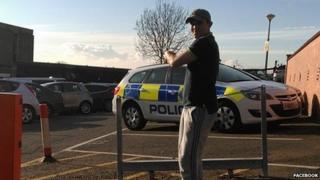 A man who taunted police hunting him by posting "selfies" on Facebook has been warned to expect a jail sentence after admitting two offences.
Aaron Bee hit the headlines last year after posting photos of himself outside a police station in Lincoln.
Bee, 22, of Lamb Gardens, St Giles, pleaded guilty to breaking a non-molestation order and a charge of assault by beating when he appeared at Lincoln Crown Court.
Both offences happened on 10 October.
Bee shared the photo after police identified him as wanted over two attacks.
He also posted a picture of a police officer, captioned: "Hello is it me your looking for".
Bee mocked police on Facebook after his photo was released by the force.
His selfie, with the incorrectly-spelt hashtag #theycarntcatchme, attracted more than 300 "likes" and was shared five times.
In other posts, he wrote: "Anybody have an idea on a new hiding place?" and "Anybody would think iam wanted or something lmao."
He told friends he would "play hide and seek til it gets boring".
Appearing in court on Thursday, Bee was remanded in custody for the preparation of a probation report and will be sentenced on 23 April.
Judge Michael Heath told him: "Whatever the details of the pre-sentence report, I will take an awful lot of persuading not to send you to prison.
"There are no promises."
He denied three other charges of breaking a non-molestation order, assault by beating and damaging a door owned by the City of Lincoln Council.
The prosecution indicated it would not pursue a trial against Bee on the three charges he denied.