United Lincolnshire Hospitals Trust out of special measures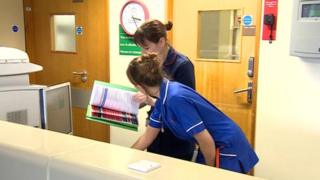 An NHS Trust has been taken out of special measures following an inspection by the Care Quality Commission (CQC).
Problems at the United Lincolnshire Hospitals NHS Trust (ULHT) were highlighted following a review by medical director Bruce Keogh in 2013.
The latest inspection says the trust still requires improvement but some areas are now rated as good.
The trust said the staff's "hard work" had led to the improvements.
'Passion and resilience'
ULHT, which runs Lincoln County, Grantham District and Boston Pilgrim hospitals, was one of 11 trusts in England placed in special measures in July 2013.
The trust was criticised for a lack of hospital staff, its patient care and 12 "never events" - or serious errors that should never have happened - occurring over three years.
Professor Sir Mike Richards, England's chief inspector of hospitals, said progress was being made.
He said: "In the large majority of areas we had previously said required improvement or were inadequate, we have actually now moved those up to good."
Fiona Allinson, CQC's head of hospital inspections, said: "Last year we found the medical and nursing staff were disengaged from the trust and they are very much part of the decision-making process now....which has made significant changes."
---
Changes trust had to make:
Keep accurate records of each person's care and treatment
Ensure there is sufficient staff to meet the needs of patients
Ensure equipment and the environment is maintained for patient safety
Give appropriate training and supervision to staff
Ensure processes for prescribing and recording medications are maintained
Put in place appropriate processes to learn from incidents and protect patients from risk
---
Catherine Capon, matron on a ward heavily criticised by the CQC, said: "The last couple of years have been quite traumatic for the staff.
"The morale dropped on the ward and staff really felt like they were the scum of the trust and had been named and shamed."
Since last year the trust said it had recruited more staff, improved its out-patient service and changed the paperwork process, however it is now in a £26m deficit.
Chief executive, Jane Lewington, said savings would not have an impact on the "quality and safety" of what is being delivered.
"It is the hard work, the passion and the resilience of our staff that has led to the trust being taken out of special measures," she said.