Sleaford toilet block turned into heritage museum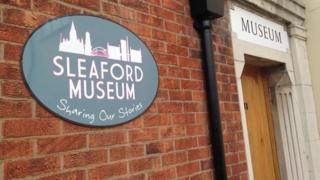 A redundant toilet block has opened to visitors after a project to turn it into a museum.
The Sleaford Museum Trust has renovated the building in Monument Gardens on Southgate with a £94,000 grant from the Heritage Lottery Fund.
The 1930's building, which had stood empty for more than 10 years and was covered in ivy, will be used to exhibit items from the town's past.
These include a timeline of Sleaford's history and items donated to the trust.
David Marriage, chairman of the museum, said the trust had been collecting items since the 1970s and up until now had nowhere to display them.
"It will give the collection a permanent home and tell the story of Sleaford," he said.
Part of the display features the Victorian Bass Maltings built by Bass Brewery. It is one of the largest buildings on the English Heritage industrial at risk register.