Gypsy leaders criticise Skegness car park measures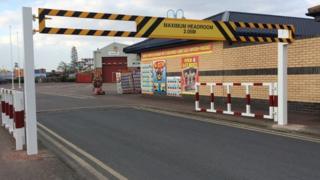 The use of barriers to stop travellers setting up camp in Skegness has been criticised by representatives from the Gypsy community.
East Lindsey District Council installed the barriers last week after problems with caravans unlawfully using car parks over recent bank holidays.
The action followed complaints from local hoteliers and businesses.
Travellers said the authority should make more effort to address the shortage of temporary sites.
Barriers have been installed at six of the resort's car parks, including Princes Parade which was occupied twice in the past 18 months.
Ryalla Duffy, from the Lincolnshire Gypsy Liaison Group, said the main issue was a shortage of official places for travellers to stay.
She said: "As long as there is an unfulfilled provision of need in the county for travellers the problem of unauthorised encampments will continue to occur."
"Putting a barrier up is not addressing the problem as it will move to a different area without barriers," she said.
Ms Duffy previously said the issue was made worse because many from the travelling community could not stay on normal camp sites.
She said many travellers have their homes combined with their businesses and commercial vehicles are not allowed.
In a statement, the district council said it was appealing for landowners to come forward with possible locations for 20 transit pitches and six permanent pitches to accommodate travellers.
However, it said it had made a commitment to the community to take action over the car parks and had installed the barriers to help prevent further unauthorised occupation.
Powers available to local authorities include temporary notices to remove unauthorised caravans, pre-emptive injunctions that protect vulnerable land in advance, and possession orders to remove trespassers from land.