Lincoln boy's hospital compensation to top £14m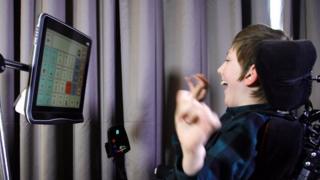 A boy left disabled after complications during his birth at a Lincolnshire hospital should receive more than £14m in damages, a judge has ruled.
In December 2002, James Robshaw was starved of oxygen during his birth at Lincoln County Hospital and was left with cerebral palsy.
United Lincolnshire Hospitals NHS Trust admitted negligence and full liability in 2009 but the amount was disputed.
London's High Court said lawyers had to settle on a final figure.
'Bright intellect'
The court heard James was starved of oxygen due to medics' failure to pick up on "abnormal changes" during the latter stages of his mother's labour.
All four limbs were affected and he now communicates using a machine controlled by eye movement.
However, the judge, Mr Justice Foskett, noted his "bright intellect had mercifully been saved" and James "wins the highest praise from everyone he meets".
Pauleen Pratt, Acting Chief Nurse, said: "United Lincolnshire Hospitals NHS Trust and the NHS Litigation Authority are deeply sorry for what happened and for the impact this has had upon James and his family.
"Although we cannot turn back the clock, we hope that the compensation, once agreed, will provide the reassurance that James' future care needs will be met".
The payout covers his pain and suffering, potential lost earnings, specialised accommodation and the costs of his future care.
James' lawyers had sought £18m but the NHS had argued for £7.45m.
The final figure is likely to be decided in the coming weeks.