EuroMillions couple from Boston tell of £53m win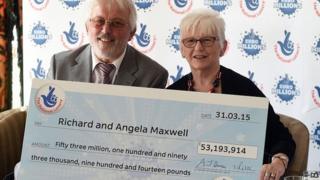 A Lincolnshire woman told her husband "don't be so stupid" when he revealed they had won £53m on the lottery.
Richard and Angela Maxwell, both 67, from Boston, won £53,193,914 in the EuroMillions jackpot draw on Tuesday.
It is the 10th-biggest UK lottery win, with the couple saying they would help family and friends.
Mr Maxwell said he waited for four hours to tell his wife as she did not answer her mobile phone and then thought it was an April Fool's joke.
Mr Maxwell said he checked the results online on Wednesday and was left "in shock" when they matched.
Top UK jackpot winners
£161,653,000 - Colin and Chris Weir from Scotland in 2011
£148,656,000 - Gillian and Adrian Bayford from Suffolk in 2012
£113,019,926 - anonymous, 2010
£107,932,603.20 - Neil Trotter from Surrey in 2014
£101,203,600.70 -Dave and Angela Dawes, Cambridgeshire in 2011
£84,451,320.60 - anonymous, 2010
£81,381,673.30 - anonymous, 2013
£73,205,659.50 - anonymous, 2014
£56,008,113.20 - Nigel Page, Gloucestershire, 2010
Teenage millionaire: Life as one of the youngest lottery winners
But he could not tell his wife as she was out at a luncheon club.
"When she came back later that afternoon, she was carrying a basket of tea towels and she started asking me about our dinner plans that evening," he said.
"I immediately told her we weren't going out for dinner. I said 'We can't go out for dinner Angela, I've got something to tell you'."
Mrs Maxwell said: "I didn't know what to think. Richard just went red in the face and then said 'We've won £53 million'.
"I just said 'Don't be stupid' - he's always playing jokes so I thought it was an April Fool. I just didn't believe it then he showed me the numbers on the website and I dropped the basket of tea towels on the floor.
"I then just sat down in the chair for about half an hour stunned."
The couple, who have two daughters, said they were still planning what to do with the money but that helping their family, and their wider community, was top of the list.
On Wednesday, another couple revealed they scooped a £1m lottery win for a second time.
Dave and Kathleen Long, from Scunthorpe, won their first jackpot in 2013.