Woodhall Spa redevelopment: First stage of plans revealed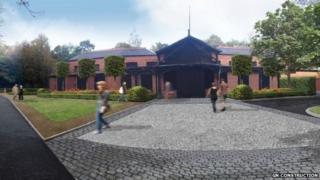 New designs have been revealed for a former Victorian spa, which has stood empty for more than 30 years.
The historic baths at Woodhall Spa in Lincolnshire, which first opened in 1843, will be redeveloped as part of a £4m makeover of the site.
Developer GN Construction said the proposals for the first stage were not yet finalised but were "a work in progress".
The project, which will see the spa return, is expected to finish by 2016.
The company said it would first focus on the landscape around the run-down building and plans for a new car park.
An application is then expected to be submitted to the local authority by August for permission to change the use of the building back into a spa.
Director Matthew Cull said: "It is very important to us to create the right ambience in and around the spa.
"Many of the residents in the village want to see the spa rejuvenated and the area around it improved and made more attractive to visit.
"The spa is the raison d'être of the village, which was created purely to serve the spa, so it is a very big part of the local heritage."
Mr Cull said the next stage would involve marketing the spa to a potential partner or investor to take on the project of renovating and conserving the building.
The redevelopment of the baths, which were once internationally renowned, will also see a third screen built at The Kinema in the Woods, one of the first cinemas in Britain when it opened in 1922, and a new-look bowling green.