Dutch mark 70th anniversary of Bomber Command food drops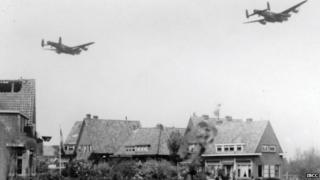 Events have taken place to mark the 70th anniversary of an RAF campaign to drop food parcels for Dutch civilians who were in danger of starvation.
For 10 days from 29 April 1945, Operation Manna dropped nearly 7,000 tonnes of food over parts of the Netherlands.
About 20,000 people had died through starvation, with a further 980,000 classed as malnourished.
Crews from across Lincolnshire were heavily involved in the campaign.
The mission followed a blockade of supplies by German forces in retaliation for Dutch rail companies going on strike in support of an Allied offensive.
The winter of 1944-45 was also particularly harsh, compounding the problem of food shortages.
At a commemoration event in Rotterdam on Saturday, hundreds gathered to thank veterans from Bomber Command, who flew 3,100 food aid missions.
Speaking at the event, Hans Onderwater, from the Memorial of Manna Committee, said his mother had once told him if it had not been for the bomber pilots bringing food she would have died, and he would never have been born.
Another person helped by the food drops was Govert Jonsson, who was seven at the time.
Talking about the flypast by the Lancaster bomber from RAF Coningsby during the event, he said it had made him cry.
Mr Jonsson said throughout his life he had never complained he was hungry, because this to him meant "starving".
He described how during the war he spent day after day searching for food, before the Lancasters arrived.
Some at the time were so desperate they were forced to eat flower bulbs and scavenge in soup kitchen containers.
Veteran Dave Fellows, who flew missions from RAF Binbrook in Lincolnshire as part of Operation Manna, said he was proud to have been part of such an important campaign