Lincoln veteran visits brother's Norway grave after 75 years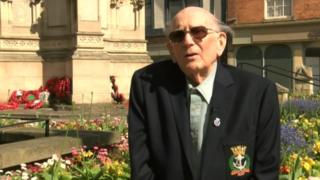 A war veteran is to visit his brother's grave for the first time since he was killed in Norway 75 years ago.
Later this month Arthur Harrison, 91, will fulfil a long-held dream by visiting the Trondheim Stavne cemetery where Edward "Ted" Harrison is buried.
Pte Harrison, of the 4th Battalion of the Royal Lincolnshire Regiment, was killed in action on 22 April 1940.
Mr Harrison was given the chance to visit Norway after his family entered him into a "Christmas Wish" contest.
"It is the thing I have wanted to do for a long time," he said.
"I know I haven't got long so I wanted to see my brother Ted's grave."
Mr Harrison, who was entered into the competition at The Elite Fish and Chip Company in Lincoln, said it was not until his mid-20s that he began to think more about Ted's death.
The Royal Navy veteran said: "It was at shock at the time but being 16 I didn't think much about death. But all these years I thought if I had the chance to go, I would.
"I would have liked to do this a long time ago but I never seemed to find the time to do it."
Ted Harrison was initially buried in a field, then reinterred a month later at a nearby church. After the war the Commonwealth War Graves Commission buried him once more, at Trondheim.
Mr Harrison will be joined on the trip by his son-in-law, Trevor Fox, and grandson.
Mr Fox said: "For many years now he has talked a lot about his elder brother, who he looked up to.
"We have tried to get him to go but he would never allow us to pay for him.
"It is a dream come true for him."