Emma Crossman case: Friend cleared of assisting suicide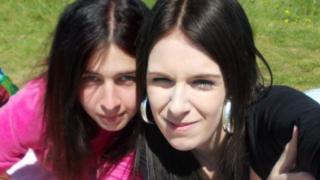 A woman who helped supply her best friend with the gas she used to kill herself has been cleared of assisting her suicide.
Emma Crossman, 21, was discovered dead at her home in Sleaford, Lincolnshire, on 15 January 2014.
Lincoln Crown Court heard Amelia Caller, 22, was "obsessed and infatuated" with Miss Crossman.
The court was told Miss Crossman said she wanted to die and bought the gas using Miss Caller's iPad and account.
Mr Justice Haddon-Cave asked the jury to consider whether Miss Caller believed it was a "virtual certainty" that her friend was going to take her own life or make an attempt to do so.
'Childlike'
Throughout the trial Miss Caller, from Great Hale, had denied encouraging or assisting her friend's suicide, saying she did not think Miss Crossman "would go through with it".
The pair had been close friends since they were teenagers.
During the week-long trial the jury heard both women had mental health issues.
Miss Crossman had a history of depression, self-harm and overdoses and had been badly affected by a split with her partner, Adrian Kemp, 56, a month or so before her death.
And the court was told by a psychologist that Miss Caller was "childlike" and "dependant" and had a personality disorder.
People with personality disorders can have difficulty maintaining stable and close relationships, and sometimes have distorted beliefs that can lead to odd behaviour.
Mr Justice Haddon-Cave said it had been a "sad and tragic case.... the story of two best friends with an intense and complicated relationship".
Outside court, Miss Caller's family said she should never have been put in this position.
Her sister, Fiona, said: "She hasn't got a nasty bone in her body. She's the nicest person you would ever meet.
"She doesn't deserve any of this.
"Milly can now move on with her life and grieve properly for her best friend Emma."