A1 closed for up to 24 hours after lorry crash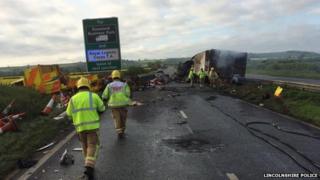 A crash involving a fruit and vegetable lorry has closed the A1 in Lincolnshire.
The HGV carrying fresh produce collided with a Highways Agency truck on the southbound carriageway near Grantham, pushing it into a ditch.
Smoke from the resultant fire forced the closure for traffic heading north as well.
Nobody was seriously hurt but the southbound carriageway needs resurfacing, which could take 24 hours.
The northbound carriageway has since reopened.
The collision is causing severe congestion and tailbacks in Lincolnshire and Nottinghamshire.
Ch Insp Phil Vickers from Lincolnshire Police said it was "very fortunate" the driver only suffered minor injuries.
Speaking via live video streaming app Periscope, he said: "It's a very difficult scene to deal with. Although it was very minor injuries to one driver, it's the difficulty of getting the road reopened.
"The road is very, very slippery, very difficult to even walk on. It certainly wouldn't be safe to reopen to traffic."
He added that spilled diesel had damaged the surface of the road and a 100m stretch would probably need to be replaced, which could take 24 hours.
Before the two vehicles can be recovered, the fruit and veg has to be removed with a forklift truck.