A1 reopened in Lincolnshire after fruit and veg lorry crash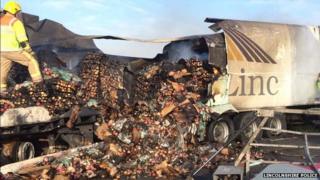 The A1 has reopened after a crash involving a fruit and veg lorry closed it for most of Thursday.
An HGV carrying fresh produce collided with a Highways Agency truck, spilling diesel across the carriageway and catching fire.
The route was closed between Nottinghamshire and Lincolnshire causing gridlock on surrounding roads.
The northbound side opened at about 15:00 BST with the southbound carriageway opening over night.
Ch Insp Phil Vickers from Lincolnshire Police said: "The collision itself was very fortunate that it was very minor injuries to one of the drivers.
"Unfortunately, because of the nature of the load and the very large spillage... both lanes were covered in diesel and, while we were on scene, the surface was like an ice rink."