Spalding double murder inquiry: Schools pay tribute to victims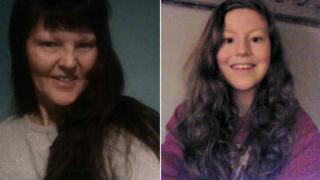 The school attended by a 13-year-old girl who was killed with her mother has said her death was a "tragic" loss.
Katie Edwards and 49-year-old Elizabeth Edwards were found at their home in Dawson Avenue in Spalding, Lincolnshire, on Friday.
Ms Edwards worked as a dinner lady at St Paul's Community Primary School and Nursery in Spalding, which described her as a "well-respected" staff member.
Two 14-year-olds accused of their murders appeared in court on Monday.
Lincolnshire Police said post-mortem examinations had been completed but they were currently unable to provide further details about the cause of death.
More on this and other local stories in Lincolnshire
In a statement on its website, Sir John Gleed School in Spalding, where Katie was a pupil, said: "Our school community has seen the tragic loss of one of our Y8 students.
"Our thoughts, prayers and best wishes are with friends and family at this time."
The school, which is a non-selective academy, added: "This is a rare occurrence and it is important as a community that we avoid speculation at this time and assist the police with their enquiries.'
The primary school where Katie's mother worked also paid tribute.
St Paul's Community Primary School and Nursery said: "A very well-respected member of our staff, Liz Edwards, and her daughter Katie, tragically died last week and Lincolnshire Police are investigating the circumstances of this.
"The school recognise that for our pupils and staff this will be a very difficult time and we have, and will continue to provide, appropriate support at school for them."
The school also warned parents to protect children from media coverage of the case and to discuss any concerns relating to the case with Lincolnshire Police.
The two teenagers, a boy and a girl, accused of the murders, were remanded at Lincoln Crown Court on Monday into secure accommodation until 27 June.