More than 200 pregnant red deer released from Lincolnshire farm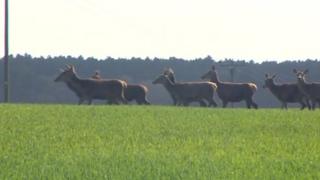 More than 200 pregnant red deer have been released from a farm near Market Rasen in Lincolnshire.
Farmer Paul Arden said that somebody had broken into the paddocks on Tuesday and had driven out the animals using vehicles and flags.
Mr Arden said that more than 40 of the deer were still missing and some may have been killed or stolen.
Lincolnshire Police said it was investigating the incident and the force is appealing for information.
More on this and other Lincolnshire stories
Mr Arden described the release of the deer as "completely abhorrent".
"You are talking about in-calf hinds," he said.
"The animal welfare aspect doesn't bear thinking about at this time.
"I think there's a real sadness that people can treat animals like that."