Grantham hospital A&E closed following fire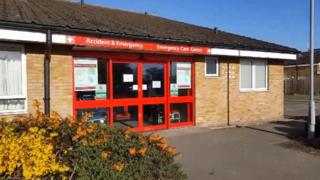 A fire has forced the closure of an accident and emergency department at a Lincolnshire hospital.
A small electrical fire broke out in the basement of Grantham and District Hospital at about 18:30 BST on Tuesday.
No-one was injured but the blaze affected power and computer systems, the hospital said.
Operations have also been cancelled and people needing urgent care are being advised to call 111.
Live updates on this story and others from Lincolnshire
The fire meant wards were evacuated and about 30 patients were moved to other beds within the hospital.
The hospital said A&E would remain closed until at least 16:00 BST.
Dr Suneil Kapadia, medical director at United Lincolnshire Hospitals NHS Trust, said: "To ensure patient safety, ambulances are diverting patients to other A&Es and we are asking patients who need care urgently to call 111 for advice.
"Our staff have been working hard to keep patients safe and to return services back to normal as quickly as possible."