Waterways 'key to Lincolnshire tourism'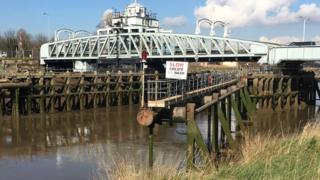 Tourism bosses have said more should be made of Lincolnshire's waterways to attract more visitors to the county.
County councillor Colin Davie made the comments as work on a £900,000 marina at Sutton Bridge started.
The councillor for economic development said the river network was an underused resource, as boating becomes ever more popular.
The Sutton Bridge moorings, which will have spaces for 20 boats, are due to open early in 2017.
More on this and other local stories in Lincolnshire
Mr Davies said: "Boating is a growing interest and we anticipate it [the marina] will lead to increased visitor numbers, many of whom will be using local shops, pubs and restaurants.
"We also expect to see opportunities arise for businesses providing services for the boating community."
He added: "I'm very clear, it is not just about this project - in the longer term we need to make more use of our waterways."
Boston and Gainsborough are two other locations which would benefit from investment in this kind of tourism, officials said.
The Sutton Bridge work is being part-funded by the county council, local initiatives, and private finance.