Watchdog concerned over continued legal high use in HMP Lincoln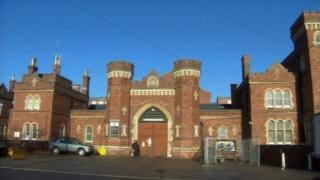 A report by a prison watchdog has raised concerns over continued legal high abuse in HMP Lincoln.
The Independent Monitoring Board (IMB) highlighted particular concerns with psychoactive substances and an increase in incidents in prison workshops.
It said the increase presented a particular challenge in terms of detection and for healthcare reasons.
Last year, HMP Lincoln governor Peter Wright said legal highs were causing inmates to be "grotesquely violent".
It came as the Government announced a range of measures as part of a crackdown.
In Lincoln, a drug strategy group was set up with Addaction as part of a wider scheme.
Mobile phone blockers were used and drug searches were carried out with sniffer dogs.
An awareness campaign was also used to make prisoners more aware of the risks associated with legal highs.
Lincoln governor Peter Wright said: "The consequence we've had so far with legal highs is that prisoners... have been grotesquely violent and staff have to be extremely brave in controlling them.
Prisoners have also "suffered terribly, something akin to an epileptic fit," he added.
Earlier, details of the biggest prison shake-up in England and Wales "since Victorian times" was announced, which although not linked to legal high use, will see a range of measures, including prisoners behind sent home during the week enabling them to work.
The IMB Lincoln report, which also found issues with staff shortages and rats and cockroaches in the kitchen area, will now be sent to Ministry of Justice, which will then make its recommendations based on its content.
What are legal highs?
Legal highs are substances which produce the same, or similar effects, to drugs such as cocaine and ecstasy, but are not controlled under the Misuse of Drugs Act
In many cases they are structurally different enough to avoid being classified as illegal so it is legal to possess and use them.
They cannot be sold for human consumption, but are often sold as bath salts or plant food to get around the law
Most fall into three main categories: stimulants, sedatives or hallucinogens.