Tirpitz raid veteran Colin Cole's funeral held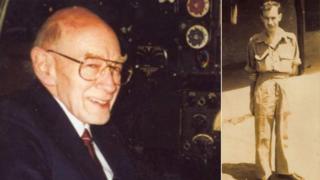 The funeral has been held of an RAF veteran who took part in the successful raid on the German battleship Tirpitz in World War Two.
Warrant Officer Colin Cole was part of the raid undertaken by the Lincolnshire-based 617 squadron on November 12, 1944.
The attack holed and sank the Tirpitz at its anchor in a Norwegian fjord.
Mr Cole died in his sleep in May, aged 93. The funeral was held at Saint Lawrence's church, Bardney earlier.
He was one of the last-surviving World War Two RAF aircrew, said Aviation Heritage Lincolnshire.
Tirpitz, the target of the raid, was a sister ship to the Bismarck and was threatening Allied convoys to Russia.
A force of bombers from 9 and 617 Squadron dropped Tallboy bombs on the ship from between 12,000 and 16,000 feet with three direct hits.
One Lancaster bomber was shot down on the raid.
On the Tirpitz raid the aircraft flew from a forward base at RAF Lossiemouth in Scotland but the squadron was based at RAF Woodhall Spa during World War Two.
The Lincolnshire base was closed in 1960s.
The Lancasters of 617 Squadron were already famous for the Dambuster raids of May 1943 against three German dams in the Ruhr Valley.