Consultation starts on Lincolnshire development plan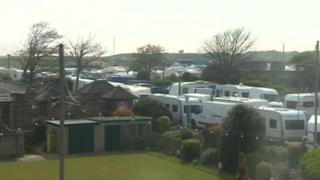 Plans to build a further 4,000 homes and develop new sites for travellers in East Lindsey have been published.
East Lindsey District Council said the new housing was needed to cope with an "increasing population and changes in lifestyle".
The draft Local Plan also deals with protecting the environment and developing tourism along the coast.
The public consultation will run until 8 August and the feedback will be used to develop a final plan by 2017.
According to the plan the area has a target of 7,815 new homes over the next 15 years, of which 4,086 have either already been built or approved.
Housing would not be built in the coastal areas due to the risk of flooding.
There is also a plan to develop nine new sites for travellers. The area currently has none.
Conservative councillor Richard Fry said: "This is a significant document for East Lindsey and will shape how the area changes over the next 15 years.
"It's really important the community looks at the plan, looks at the policies contained within it and feeds back any views before the deadline."