Paralysed Magaluf stag-do groom 'moves foot'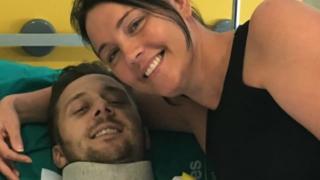 A groom-to-be paralysed after a freak stag-do accident in Majorca has regained some movement after treatment for his injuries.
James Thorpe was left paralysed from the chest down after falling in the sea in Magaluf last month.
The 28-year-old, from Boston, was due to marry Michaela Watson in June but the couple cancelled the ceremony after he broke his neck.
Ms Watson said her fiancé is making excellent progress.
She said: "Last Sunday, James tried to move his foot. He was trying all day and nothing was happening, but all of a sudden his right foot started to move."
"It's obviously a breakthrough moment for us," she said..
More on this and other local stories in Lincolnshire
After the accident Spanish doctors warned he may never walk again.
Despite this, she said: "I have always been optimistic and wouldn't believe it."
Ms Watson said they have set a new date for their wedding next July.
"James doesn't want to be in a wheelchair, he is determined to walk down the aisle," she added.