Daisy wheel 'protection graffiti' found at Lincoln Cathedral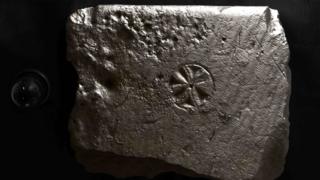 Ancient artefacts, including medieval daisy wheel "graffiti", have been found during an archaeological survey at Lincoln Cathedral.
As well as finding hand-carved daisy wheels, archaeologists also unearthed two adult skeletons.
Officials said the markings were probably carved by stonemasons as part of a protection ritual.
The dig is part of a scheme to improve public areas around the historic cathedral.
More on this and other local stories in Lincolnshire
---
Daisy wheels
Norfolk Medieval Graffiti Survey has uncovered several thousand examples of shapes inscribed on church buildings, ranging from simple circles, through to six petalled flower designs - known as daisy wheels - to highly complex geometric constructions
It was originally thought these designs were exclusively created by the actual masons who built the churches, but experts said it is unlikely any single trade was responsible
It is thought the vast majority of these designs acted as "ritual protection" - having the power to avert evil influences or bad luck
At a more complex quasi-theological level they were designed to trap the demons that roamed the world within their complex structure, quite literally pinning them to the walls
Source Norfolk Medieval Graffiti Survey
---
Mark Allen, director of Allen Archaeology and supervisor of the excavations, said the dig helped to gain a better understanding of life in and around the cathedral.
He said: "The cathedral has seen little modern development, so the chance to investigate what remains below ground using modern techniques is exceptional."
"We are particularly impressed with the medieval graffiti. The examples we found are carved deep into the stone and would have taken some time and effort to create, suggesting that their creation was tolerated by the cathedral many, many years ago. Very different to how we perceive graffiti today."
He said daisy wheels, which are thought to have been carved as part of a protection ritual, were often found on the walls of religious buildings.
The dig also unearthed remains of medieval buildings, including the lost deanery and the chantry, where priests lodged, and a hall dating back to the 14th Century.
The human remains found during the dig - both adults, one identified as female - have been recovered and left in situ.
The Lincoln Cathedral Connected scheme includes landscaping of Dean's Green, to create a new outdoor public space, a visitor centre including a larger café and shop, and exhibition spaces to display some of the cathedral's treasures.