'No refunds' for 1,000 Lincoln Theatre Royal cancelled tickets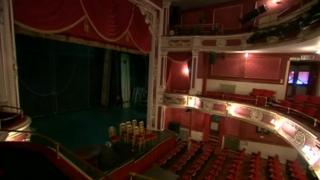 About 1,000 tickets that were cancelled for shows at Lincoln Theatre Royal will not be refunded by the venue.
Nine shows, including the Russian State Opera's Carmen and a Cinderella pantomime, were cancelled after Moonstone Entertainments Ltd ceased trading on 27 June.
The new management said it had failed to pay the rent.
The theatre has since been closed and New Lincoln Theatre Ltd took over the venue soon after.
New Lincoln Theatre Ltd said refunds could be claimed by those who paid for tickets using their credit cards.
The BBC has attempted to contact Moonstone Entertainments Ltd for a comment.
Bruce Hayes, owner of the building, said: "It's nothing to do with us as the holding company that owns the property and it's nothing to do with the new company that's trying to get started [to run the venue].
"It's very sad for these people [ticket holders]."
'One big mess'
Michael Hayes-Cowley, director of New Lincoln Theatre Ltd, said he believed some buyers had paid cash for their tickets, while others had used credit and debit cards.
"We can't refund something we've not received," he said.
Natalie Hayes-Cowley, from the company, described the situation as "one big mess".
She said: "We'll be emailing each and every one of them [ticket holders] and they can take that email to their credit card company, showing that it's proof of new ownership and the [previous] company they booked with has liquidated so they can get their money back."
The theatre is expected to open on 15 October after a revamp and will be rebranded as New Theatre Royal, New Lincoln Theatre Ltd says.
The venue's box office is expected to open in September.
APS Holdings Ltd bought the theatre building at auction in April.
Ian Marston, who ran Moonstone Entertainments Ltd, previously said he wound up the company to avoid "any further financial distress to our current creditors".