Totemic announces 500 job cuts in restructure plans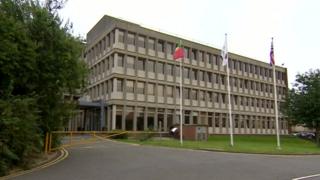 Up to 500 jobs are under threat after a debt advice company announced plans to restructure.
Totemic Holdings said its advisors and admin posts were at risk because of "significant changes" in the industry.
The company employs a total of 876 workers at three sites with 597 at its head office in Grantham, 270 in Long Bennington, near Newark and nine in Birmingham.
The firm said it was not yet clear how many posts would be cut at each site.
Director John Fairhurst said a 45-day consultation period was due to start this week with compulsory redundancies expected to begin at the end of October.
"Changes to the debt market have been very difficult to predict, there's been a lot of turbulence. A lot of our competitors have exited the market."
As a result, the company is having to "scale back" on its operation "to ensure a sustainable and long-term future for the organisation", Mr Fairhurst said.
In a statement, Totemic added it would "seek to minimise redundancies where possible".
The firm provides free debt advice to people primarily working in the military, police and nursing professions.