Firefighters 'asked to drive gritters' in Lincolnshire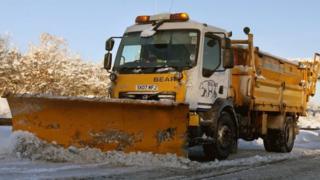 Retained firefighters could be asked to help grit roads in Lincolnshire, officials have said.
The county council, which operates the service, said it is considering the idea after struggling to recruit drivers in recent years.
The authority said about 50 firefighters have already expressed an interest.
The county has a fleet of more than 40 vehicles, covering about 1,865 miles (3,000km) of roads.
A working group has recommended considering the use of retained firefighters as back-up drivers for severe weather events.
The use of refuse truck drivers was also suggested.
More on this and other local stories from across Lincolnshire
Council staff could be asked to act as drivers' mates, in order to meet legal requirements for having at least two staff for each truck.
Richard Fenwick, winter maintenance engineer at the authority, said: "It's not about putting a strain on the fire service - we are just looking at the possibility of retained firefighters doing some work in their spare time.
"It's a separate job - so when they are not working for the fire service - they would potentially be able to drive gritters as well."
He said the proposals were about making the service more resilient.
"We want to try and build up a bank of people who would be able to contribute if we need them," he added.
The proposals will be discussed at a meeting on 12 September.