Hip op woman cared for in dementia unit for six months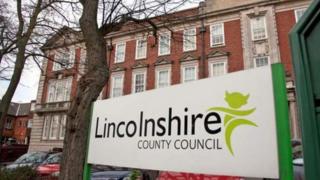 A woman was placed in a dementia unit following a hip operation because of a lack of available homecare, a watchdog report has found.
The Local Government Ombudsman found Lincolnshire County Council at fault for allowing the placement.
Malcolm Chisholm said his wife Tricia spent 10 months in a care home, because the council failed to switch her homecare package as promised.
The authority has apologised and said it accepted the report's findings.
More on this and other local stories from across Lincolnshire
An investigation found Mrs Chisholm was placed in a care home in Cambridgeshire for 10 months between July 2015 and May 2016, about six of which were spent in a dementia unit even though she does not have the condition.
Ombudsman Michael King said: "This couple found themselves in the situation of a hospital operation leading to 10 months living apart, because of the lack of care provision available.
"The woman was placed for too long in an unsuitable care environment. She wanted to return home to be with her husband, but instead had no choice but to live with people whose care needs were very different to her own, causing her significant distress."
'Totally inappropriate'
Mr Chisholm said problems arose when the council changed its care provider while his wife was in hospital.
He said they had been promised it would be a "seamless change", but upon his wife's release there was no-one available to care for her at home.
Mr Chisholm said the only accommodation offered to them was a care home near Peterborough, a 30-mile round trip from their home in south Lincolnshire.
Speaking about her care in the dementia unit, he said: "She is perfectly cognitive, she just doesn't have the use of her leg, but they put her in a dementia unit which was totally inappropriate."
Lincolnshire County Council has agreed to pay £1,750 in compensation to the couple, plus Mr Chisholm's mileage expenses.
Carolyn Nice, assistant director of adult social care at the council, said: "There are currently no individuals waiting longer than they should be waiting for home care, in a short-stay residential bed.
"This is not a situation any of us would want a local resident to be in."
The council said it has already taken steps to prevent situations of this nature happening in the future.