Newly opened £12m railway bridge to close for repairs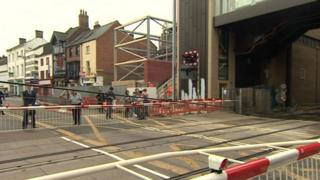 A pedestrian bridge crossing a railway line in Lincoln is to close for repairs just over a year after it opened.
Network Rail said the £12m structure had "not met the standards we have expected it to" with complaints from users that rainwater was pooling on the staircase.
It will close for up to two months from 1 October for resurfacing work on the steps.
Lincoln's Labour MP Karen Lee is unhappy about the closure.
"I wonder why this has happened so quickly, why it needs maintenance so quickly just after a year," she said.
The bridge next to a busy level crossing on the city's High Street opened in June 2016.
As well as the staircases, the bridge has lifts which will remain open during the renovation work.