Replica Lancaster bomber plans unveiled for gateway to Lincolnshire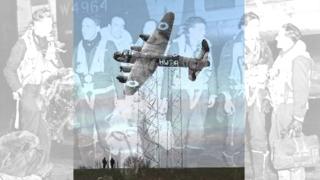 Plans to erect a full-size replica Lancaster bomber on a roadside in tribute to the 55,573 aircrew killed in World War Two have been unveiled.
The Bomber County Gateway Trust wants to site the 85ft (26m) structure on the A46 between Lincoln and Newark to welcome people to Lincolnshire.
Ken Sadler, from the trust, said it would be on a similar scale to the Angel of the North.
He hopes the structure can be in place in time to mark 100 years of the RAF.
Mr Sadler said those who served with Bomber Command had "been unfairly snubbed for too long".
He said the replica would go someway to recognising their sacrifice and contribution.
If given the go-ahead, the Lancaster would be erected on top of a 32ft (10m) structure to give the impression of it flying as motorists enter what is known as "Bomber County".
There are thought to have been more than 100 military airfields, including dummy airfields and emergency landing strips in Lincolnshire at the time of World War Two.
Mr Sadler said the aircraft - which would be made of mild steel - would also point towards the former RAF Swinderby in recognition of a crew which crashed close by in 1944.
He said the aim was for the project to become a reality in time to mark the 100th anniversary of the formation of the RAF in 2018.
"We have the land, and we have a group of very willing volunteers who want to crack on with it," he said.
"We are confident there will be plenty of people who want to contribute both time and effort, and some cash."
The trust has submitted designs to the local authority to see if they will support it in principal.