PC verbally abused in Skegness supermarket for 'buying dinner'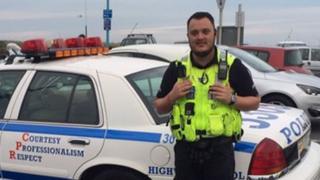 A police officer has spoken out after he was verbally abused in a supermarket by a member of the public for buying his dinner.
PC Dan Healey, who is based in Skegness, Lincolnshire, took to Twitter to vent his frustration after the outburst on Friday.
He wrote: "Just been verbally abused at a supermarket... for being in uniform and buying my dinner."
Dozens of people responded with messages of support for the officer.
The officer said he was eating a salad "by orders of the Mrs".
Some joked if a salad was suitable fare.
Others asked why the officer deemed it necessary to post about the incident.
PC Healey said he wanted to see "more cops" taking breaks in uniform, and being part of the community they serve.
He added that as the man had not used foul language it was not deemed a public order offence.