Kittens dumped in Wetherspoons toilets in Lincoln to be re-homed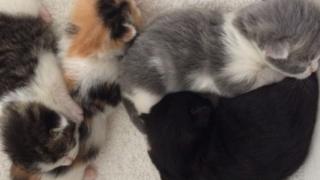 Four kittens found abandoned in a bag in the toilets of a Lincolnshire pub are being put up for adoption.
The newborn kittens were found inside the plastic bag in the men's toilets at a Wetherspoons in Lincoln.
RSPCA inspector Rebecca Lowe said: "They are far too young to be away from mum and are being hand-reared and fed round-the-clock by a foster carer."
Moira Lower, who is looking after them, said despite their ordeal they were now doing well.
She said there had already been a lot of interest from people wanting to adopt the two male and two female kittens.
The kittens have been named after alcoholic drinks, in recognition of where they were found.
They are called Bailey, Jameson, Tia Maria and Skyy.
Following the discovery by staff at the pub on 28 February, the RSPCA launched an investigation and is keen to hear from anyone who saw someone carrying a Tesco shopping bag into the men's toilets at the pub on Lincoln High Street.