Woman who glassed man in Skegness bailed to give birth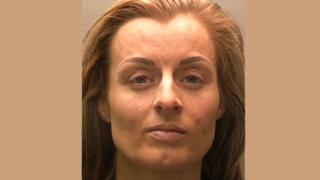 A woman facing a "substantial jail term" for a glass attack that left a man blind in one eye has had her sentencing adjourned so she could give birth.
Amy Coleman was convicted of glassing Carl Benham during an incident in the Marine Boathouse at Skegness.
Judge John Pini QC told her: "I am just persuaded to allow you to have your child at liberty."
But he told her the starting point for her crime was 12 years in prison.
Coleman, 30, of Mel Marshall Way, Wrangle, was found guilty of inflicting grievous bodily harm with intent on Mr Benham on 25 February 2017.
Siward James-Moore, prosecuting, said the attack happened after Coleman confronted Mr Benham, who was out celebrating his 30th birthday.
Mr Benham briefly left the venue to get some money and when he returned found his way to the bar blocked, the jury heard.
Two women then began shouting at him and one of them threw beer over him, Mr James-Moore said.
The court heard as he attempted to clean himself up Coleman threw a pint glass at him that hit his face, damaging his eye.
Mr James-Moore said: "All he was aware of was his mouth filling up with blood."
During the trial Mr Benham said: "I knew my face was cut. I couldn't see. It flapped all my cheek open."
"I lost the eye. Its gone," he added.
Coleman, who is due to give birth next month, was granted bail to appear back at Lincoln Crown Court in June.