Animals at war part of Heckington 10,000 poppy exhibition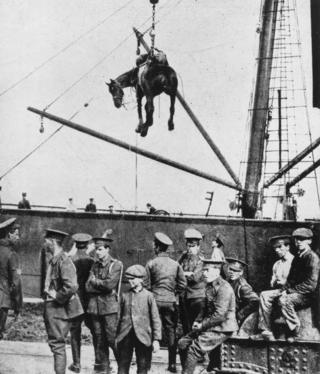 An exhibition marking the end of World War One is to feature artwork of a horse adorned with purple poppies in recognition of animals involved.
It is part of Project Heckington 100, which will feature a cascade of 10,000 poppies on display at St Andrew's Church in the village.
Chairman Andrew Key said the exhibition was in tribute to those who never returned.
He said it would also pay tribute to animals and clergy.
Mr Key said the idea for a horse adorned with purple poppies came from a suggestion on social media.
"Someone suggested purple poppies because they represent all of the animals killed in wartime, particularly horses, pigeons and dogs," he said.
The exhibition, which will run from 27 October through to Armistice Day on 11 November, will also remember the clergy who served.
"We found out there were 5,000 clergymen who went to war - they were unarmed, and untrained, and 179 didn't come back," he said.
"The work they did is often overlooked - the comfort they brought to the serving soldiers," he added.
You might also like:
Mr Key said they were still looking for more people to get involved in making the poppies - which are mostly knitted, crocheted, or made from paper.
He said the total to date stood at about 3,500, with some coming from as far away as Australia.