Bloodgate doctor 'did not act in player's interests'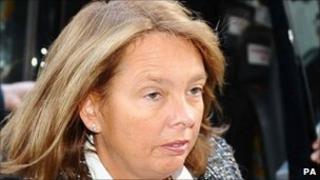 A doctor who cut a rugby player's lip so he could be substituted during a match did not act in his best interests, a disciplinary panel found.
Dr Wendy Chapman said she was "ashamed" she had given in to pressure from Harlequins winger Tom Williams who had bitten into a fake blood capsule.
The General Medical Council (GMC) found her actions had brought the profession into disrepute and were dishonest.
Allegations she deceitfully said the player's tooth was loose were unproven.
'Very black place'
The panel is to consider submissions as to whether her fitness to practise medicine has been impaired because of her misconduct.
Dr Chapman said that she had "come back from a very black place" and insisted she was "100 percent confident that nothing like this would ever happen again".
Dr Chapman said: "I just want to show, if I'm allowed, that I can hold my head up and prove this was not the person I am.
"I would deeply like to go back to being a doctor."
The doctor said she had been hoping to work at the London 2012 Olympics - but would now not work in sport medicine again.
Ruling on the facts of the case, the GMC Fitness to Practise Panel agreed the former accident and emergency consultant at Maidstone Hospital in Kent had cut Williams's lip in the changing room after he made several heated requests.
However, panel chairman Brian Alderman said there was no evidence her actions were "pre-meditated or you had any involvement or knowledge of the deception".
But he said: "As a doctor, your care of duty was to the patient, irrespective of the pressure you were feeling at the time. They (her actions) were not in the best interests of his health.
"You were there to treat his alleged injury, not to cause one."
The GMC's sanction may be announced next week.