Physio Stephen Brennan's 'regret' over 'bloodgate'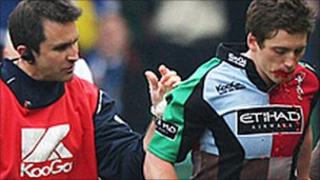 A physiotherapist has told a medical panel of his remorse at his role in the rugby union "bloodgate" scandal.
Stephen Brennan was involved in staging Tom Williams' blood injury during Harlequins' Heineken Cup match against Leinster in April 2009.
He admitted all but one allegation put before him at the Health Professions Council (HPC) conduct and competence committee hearing in London.
He denies his misconduct has impaired his fitness to practise.
Mr Brennan told the hearing a fear of losing his job meant he obeyed the London side's then director of rugby Dean Richards' previous requests to use blood capsules.
'Act of cheating'
However he said the incident, which later became known as "bloodgate", gave him the option to refuse as he was due to leave weeks later and he admitted making the wrong decision.
Harlequins were losing 6-5 in the 2009 Heineken Cup quarter-final against Irish side Leinster when Tom Williams bit a fake blood capsule.
The supposed injury allowed a specialist goal kicker on to the pitch as a substitute for the Harlequins player in the final minutes of the game.
However their opponents held on to win the game.
Mr Brennan said: "In retrospect I should have said no, but in the heat of the moment I did not have that clarity of judgement.
"I followed orders and wish I hadn't. Yes I went on to the pitch with the intention of deceiving the referee.
"I regret it every day.
"I was told this is what I had to do. It was a split-second decision made during a match that had massive pressure on it.
"Giving a blood capsule to Tom Williams had nothing to do with physiotherapy, it was the stupid act of cheating."
Mr Brennan is serving a two-year suspension from rugby union and for the past 12 months has been working in a private practice.
The hearing is due to conclude on Tuesday when the HPC can issue a caution, suspension or have him struck off.
Last month Dr Wendy Chapman, who cut Williams' lip to cover up the ruse, was given a warning by the General Medical Council's (GMC) disciplinary panel.