Publisher convicted of police Parliament assault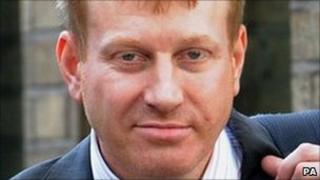 A publisher has been convicted of assaulting a police officer near the House of Commons chamber.
Ian Thomas, 41, of Colchester, Essex, was stopped by a police officer as he left the event hosted Conservative MP Eric Pickles in March 2009.
He verbally abused Pc Christopher Leggett in a corridor after being told he was in an unauthorised area, Southwark Crown Court heard.
Thomas punched the officer, causing his lip to bleed.
Prosecutor Martin Pinfold said Thomas appeared "intent on compromising the security of the House of Commons" on the eve of last year's G20 conference in London.
The businessman, a director of educational publishing company Sugar Media, left the reception when his partner called to say he had been locked out of their flat.
He told the jury that he consumed two-and-a-half glasses of wine and acted in self-defence after CS gas was sprayed in his face.
Recorder Martin Heslop QC told Thomas: "The fact I am allowing you to have bail does not mean I am not considering other matters, which may involve an immediate custodial sentence. I want you to appreciate that."
Thomas's sentencing hearing was adjourned until 14 October.